As KIA dealers in the Pongau region, and based on multiple requests we had received in the past, we came up with the idea to open a rental-car service. In December 2015, this vision became a reality!
With all of the things we do, the customer is always our central focus. That means, we will make every effort to offer you the best-possible service. Related to that, we have calculated very affordable rental rates. We also have a wide selection of vehicles available for our potential customers, all of which are no more than 6 months "young"!
And naturally, we are more than happy to cater to the special wishes of our customers. Please don't hesitate to ask!
The Team of PONGAU RENTAL CARS
Andreas Rohrmoser, General Manager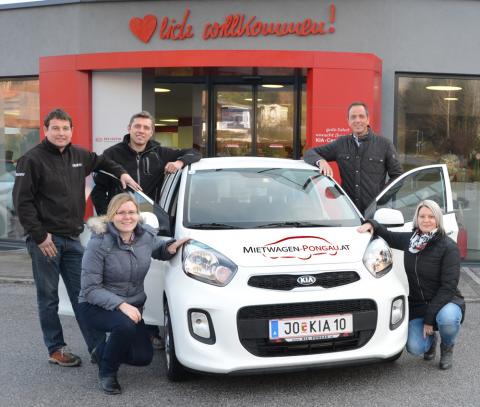 A historic day:
The three owners of the business – Herbert Fröhlich, Konrad Hettegger and Andreas Rohrmoser – pose with Kathi and Christina from the Pongau Rental Cars office and their very first rental vehicle, a brand-new KIA Picanto!